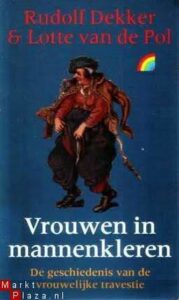 Vrouwen in mannenkleren, de geschiedenis van de vrouwelijke travestie.
Rudolf Dekker en Lotte van der Pol.
Uuitgeverij rainbow/wereldsbibliotheek, 1989, 234 blz.
Daar was laatst een meisje loos die wou gaan varen als lichtmatroos is een volksliedje over een meisje dat als man verkleed de wereldzeeën bevaart. In de zeventiende en achttiende eeuw war er een groot aantal vrouwen dat zich, uit vaderlandsliefde, armoede of liefde voor een andere vrouw, verkleedde en leefde als mannen. Zij monsteren aan bij de vloot, vochten in het leger of sloten zich aan bij een dievenbende. Dekker en Van der Pol beschrijven 120 avontuurlijk levens en genieten een boeiende analyse van de vrouwelijke travestietraditie.